This article describes a feature in the first Apocalypse Rising

The Car Dealership is a location in Kin Reborn. It was added during Apocalypse Rising's third anniversary. It was updated again during the March 21st map update which reduced some of the rooms in it and added a garage to it.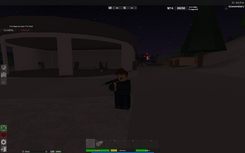 Overview
The Car Dealership is located between the Mansion, Dirk and Pitts Park. It is a popular spawn for fresh spawns and a go to place for those needing car parts. It is a mediocre base because of its location: it is on the road leading from Hark all the way to Kin. There is a hill right next to it which overlooks the entire complex.
The building itself is a dome-shaped building with large showcase windows. In the back are a few rooms where civilian loot spawns. Behind the Dealership is a gas station, repair shop and a few other houses.
Loot
The Car Dealership mostly spawns civilian loot and car parts. However, military-tier weaponry and cars can be rarely found here.
Trivia
Strangely, cars can spawn on the roof of the Dealership. However, the cars spawn on top of the display area so it must mean they were meant to spawn inside in the dealership.
The dealership windows are the biggest glass panes in the whole game, but can still be broken by any bullet.
Ad blocker interference detected!
Wikia is a free-to-use site that makes money from advertising. We have a modified experience for viewers using ad blockers

Wikia is not accessible if you've made further modifications. Remove the custom ad blocker rule(s) and the page will load as expected.