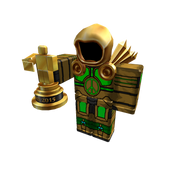 Gusmanak, commonly referred to as Gus by players, is the creator of Apocalypse Rising and an active member of ROBLOX. He is also one of the founders of the Dualpoint Interactive studio. He will periodically update the game regularly (whether it be bug fixing or adding new features). Seeing him in-game is considered a rare event and should be documented. He has his own unique in-game clothing item, the Gusmanak armor (although extremely rare, it is obtainable without hacking and resembles his neon clothing).
Links
Gallery
Ad blocker interference detected!
Wikia is a free-to-use site that makes money from advertising. We have a modified experience for viewers using ad blockers

Wikia is not accessible if you've made further modifications. Remove the custom ad blocker rule(s) and the page will load as expected.