This article describes a feature in the first Apocalypse Rising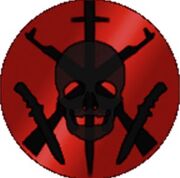 The Marauder Badge is a badge that can be obtained by killing 75 players aggressively, and surviving for 30 days.
Description
"Awarded to those who kill at least 75 players, and survive for 30 days. You must accomplish this all in one life, and you cannot earn this badge in a VIP server."
This badge looks similar to the Raider Badge but has two guns behind the mask instead of one.
Tips
Ad blocker interference detected!
Wikia is a free-to-use site that makes money from advertising. We have a modified experience for viewers using ad blockers

Wikia is not accessible if you've made further modifications. Remove the custom ad blocker rule(s) and the page will load as expected.