This article describes a feature in the first Apocalypse Rising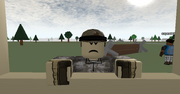 Military Zombies are a type of zombie that are commonly found in Apocalypse Rising.
Overview
Military Zombies are the toughest type of zombies in Apocalypse Rising, due to them wearing military fatigues, which include body armor. Occasionally, they can appear to wear helmets as well, allowing them to take more than 1 shot to the head, and sometimes 4 shots are required to fully exterminate the zombie. The easiest way to kill these zombies is to hack them down with a hatchet or an Officer's Sabre. They are usually found wandering around military tents and outposts.
Trivia
They do not wear helmets in the Amend map.
There is a small chance they may drop the Gusmanak Armor or ZolarKeth Armor.
They wear a camouflage that is inaccessible to the player.
They can sometimes be seen wearing a helmet that doesn't match their uniform.
The standing helmeted version is headshot-resistant to its face, but shooting its helmet will kill it instantly.